X-ZELL Cryoimmunostaining™ SUITE
slide-based multiplexing with up to 9 fluorophores simultaneously
SPIN-OFF PRODUCT: X-ZELL CRYOIMMUNOSTAINING™ SUITE SLIDE-BASED MULTIPLEXING WITH UP TO 9 FLUOROPHORES SIMULTANEOUSLY
UP TO 9 FLUOROPHORES PER SLIDE
VALIDATED FOR 18 COMMON FLUOROPHORES*
SIMPLE PROTOCOL FOR EASY LAB INTEGRATION
COMPATIBLE WITH EXISTING MICROSCOPES**
X-ZELL's Cryoimmunostaining™ Suite is part of a novel, patented platform technology designed by X-ZELL to enable the identification of novel biomarkers in whole blood.
The system has been tested for 18 different fluorophores*, up to nine of which may be utilised in parallel to enable the fast and direct visualisation and characterization of membrane, cytosolic and nuclear antigen expression in single cells as well as frozen organ tissue. It is compatible with the patented X-ZELL CapGap™ slide holding system, which will reduce antibody usage by 50-80%.
To ensure minimal crosstalk between fluorescence channels and avoid complex and time-consuming downstream processing such as spectral unmixing, X-ZELL has developed a series of Reagent & Consumable Kits optimized for use with the
Cryoimmunostaining™ system (available separately).
The result is a powerful, slide-based multiplexing solution that does not affect cell morphology or tissue architecture and will keep both RNA and DNA content intact for follow-up analysis.
The X-ZELL Cryoimmunostaining™ Suite is currently available in select markets as a spin-off product. Please contact X-ZELL for more information.
*The X-ZELL Cryoimmunostaining™ Suite has been tested for the following fluorophores and their spectral equivalents: DAPI, BV421, Pacific Blue, Pacific Orange, BV480, PerCp, AF488, PE, PE-Cy5, PE-Cy7, Propidium Iodide, AF594, DRAQ5, AF647, AF750, AF790, AF800, DIR
Note: X-ZELL laboratory instruments have been validated for use in combination with official X-ZELL consumable & reagent kits. Third-party reagents and consumables have not been validated and may affect instrument performance. Unless specifically indicated, all X-ZELL products are designated as general laboratory equipment.
X-ZELL Publications
Bhakdi et al. Immunocytomorphological landscape of tCAC in the blood of lung cancer patients (abstract, ECC 2021) Advances in Clinical and Experimental Medicine 2021
Narula et al. Slide-based immunocytometry for diagnostics of acute leukemia (abstract, Blood 2021) Blood 2021 Abstract Book 2021
Bhakdi et al. Improved analysis of tumour-associated circulating rare cells (abstract, ECP 2021) Virchows Archiv 2021
Chiangjong et. al. Cell-main spectra profile screening technique in simulation of CTC using MALDI-TOF Cancers 2021
Bhakdi et al. Cytomorphologic and immunophenotypic characterization of tCAC in prostate adenocarcinoma (abstract, ECP 2020) Virchows Archiv 2020
Bhakdi et al. Accuracy of tCEC as a screening biomarker for clinically significant prostate cancer Cancers 2019
Bhakdi & Thaicharoen Easy employment and crosstalk-free detection of seven fluorophores in a widefield fluorescence microscope Methods & Protocols 2018
Bhakdi Tumour-derived circulating endothelial cells predict clinically significant prostate carcinoma (abstract, APCC 2018) BJU International 2018
Waseem et al. Buffer-optimized high-gradient magnetic separation for isolation of plasmodium-infected RBC Journal of Magnetics 2016
Waseem et al. Antibody-conjugated paramagnetic nanobeads: Kinetics of bead-cell binding International Journal of Molecular Sciences 2014
Bhakdi et al. Optimized high-gradient magnetic separation for isolation of plasmodium-infected RBC Malaria Journal 2010
Rapid, gentle, non- toxic cell fixation on standard slides
Validated for suspended cells & cryo-sections
Full retention of cell morphology & tissue architecture
>90% rare cell recovery on standard microscope slides
50-70% RNA preservation
80- 100% DNA preservation
Capacity: 8 slides per run
Footprint: 421mm

 x 581mm x 159mm 

(

LxWxH

)

Hands-on Time: 2 min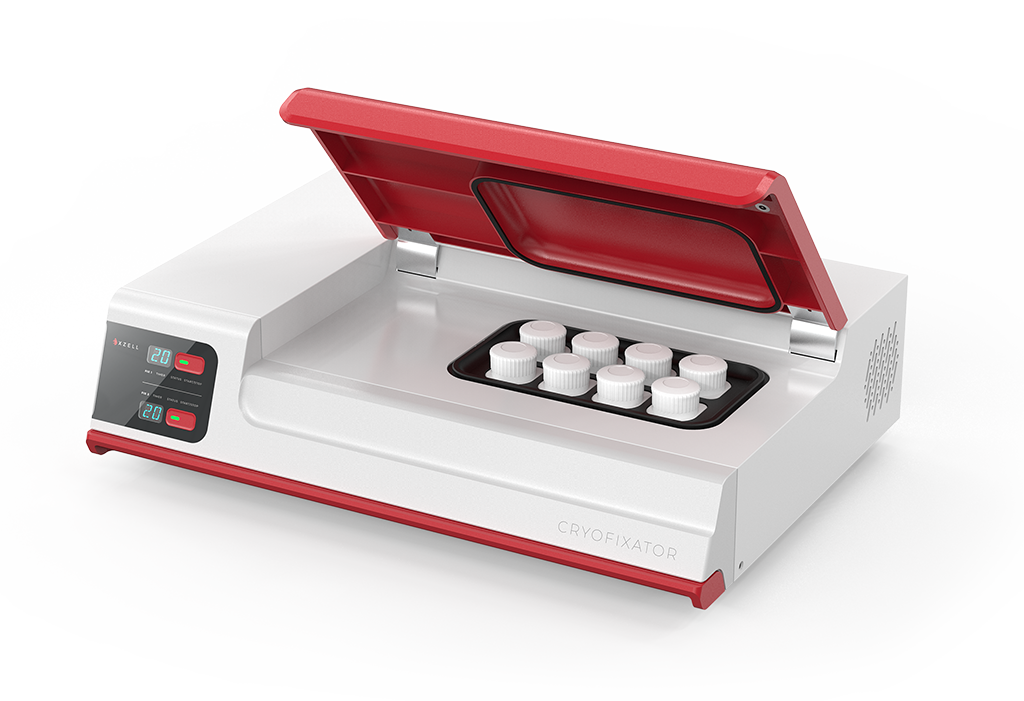 Custom panels with up to 9 fluorophores per experiment
50-80% less fluorophore consumption 

Validated for 18 common fluorophores*

Samples fully re-stainable 

No crosstalk
No autofluorescence
No non-specific antibody binding
No spectral unmixing
Capacity: 8 slides per run
Footprint: 421mm

 x 581mm x 159mm 

(

LxWxH

)

Hands-on Time: 5 min