X-ZELL Cryoimmunostaining™ SUITE
The world's first slide-based, 9-colour immunostaining solution
X-ZELL's Cryoimmunostaining™ Suite is a new, ultra-precise platform solution designed to make next-generation single-cell immunofluorescence cytology accessible to researchers worldwide.
Originally designed to enable X-ZELL's own research into next-generation biomarkers for the early detection of clinically significant prostate cancer, it is suited for visualizing and characterising membrane, cytosolic and nuclear antigen expression in single cells as well as organ tissue.
With the ability to avoid crosstalk, background and non-specific binding, it is the only multiplexed immunostaining system on the market that does not require spectral unmixing. 
Perfected as part of X-ZELL's own laboratory routine, it therefore allows researchers to analyse tissue and blood samples at a whole new level of detail while still using standard antibodies.
Currently validated for 16 commonly used flowcytometry fluorophores, it covers the entire light spectrum for the visualization and characterisation of membrane, cytosolic and nuclear antigen expression in single cells as well as organ tissue – all with minimal crosstalk between fluorescence channels and no downstream application of advanced mathematical algorithms.
Proven in immunophenotyping, cell-cell interactions, immunostaining, rare-cell research, slide-based cytometry and many more applications, the X-ZELL Cryoimmunostaining™ Suite will give you next-generation performance now – and at up to 50% less cost.
Rapid, gentle, non- toxic cell fixation on standard slides
Retain cell morphology & tissue architecture
Recover >90% of rare cells on slides
50-70% RNA, 80- 100% DNA preservation
Footprint:

402mm x 579mm x 139mm

(

LxWxH

)
Run Time: 35 min, 2 min hands-on

One-step, 9-color immunofluorescence staining

Single cells, cryosections & more, all fully re-stainable
Membrane, cytosolic and nuclear antigens
Low background & non-specific antibody binding
Footprint: 284mm x 330mm x 139mm (

LxWxH

)
Run Time: 1h 45min, 5min hands-on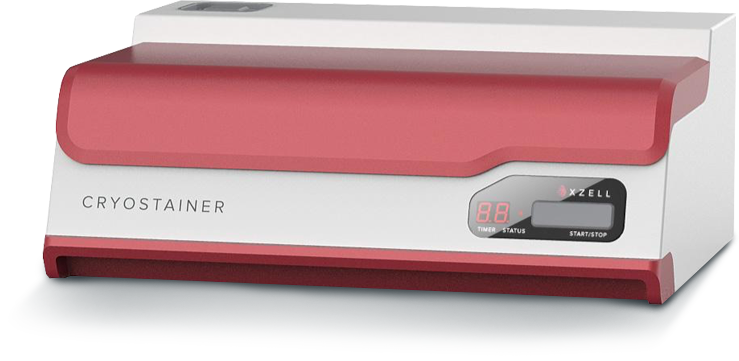 ADDITIONAL INFORMATION
start discovering
To unleash the full potential of X-ZELL's world-unique Cryoimmunostaining™ Suite, users require access to a fully automated fluorescence microscope with X-ZELL fluorescence filter sets.
Contact sales@x-zell.com for more information on microscope set-up and detailed operational work flows, as well as to re-order reagents and X-ZELL CapGap equipment™.
To obtain detailed Cryoimmunostaining™ process protocols, please contact info@x-zell.com.
X-ZELL Publications
Bhakdi et al. Accuracy of Tumor-derived Circulating Endothelial Cells as a Screening Biomarker for Clinically Significant Prostate Cancer. 2019, Under Review.
Bhakdi et al. Navigating the Diagnostic Grey zone with tCEC (Poster). Asia-Pacific Prostate Cancer Conference, 2018
Bhakdi et al. Navigating the Diagnostic Grey zone with tCEC (Abstract). BJU International, 2018
Bhakdi et al. Easy Employment and Crosstalk-Free Detection of Seven Fluorophores in a Widefield Fluorescence Microscope. Methods & Protocols, 2018
Waseem et al. Buffer-Optimized High Gradient Magnetic Separation: Target Cell Capture Efficiency is Predicted by Linear Bead-Capture Theory. Journal of Magnetics, 2016
Waseem et al. Antibody-Conjugated Paramagnetic Nanobeads: Kinetics of Bead-Cell Binding. International Journal of Molecular Sciences, 2014
Bhakdi et al. Optimized High-Gradient Magnetic Separation for Isolation of Plasmodium-infected Red Blood Cells. Malaria Journal, 2010