X-ZELL Inc and Siriraj Hospital expert team up for landmark breast cancer study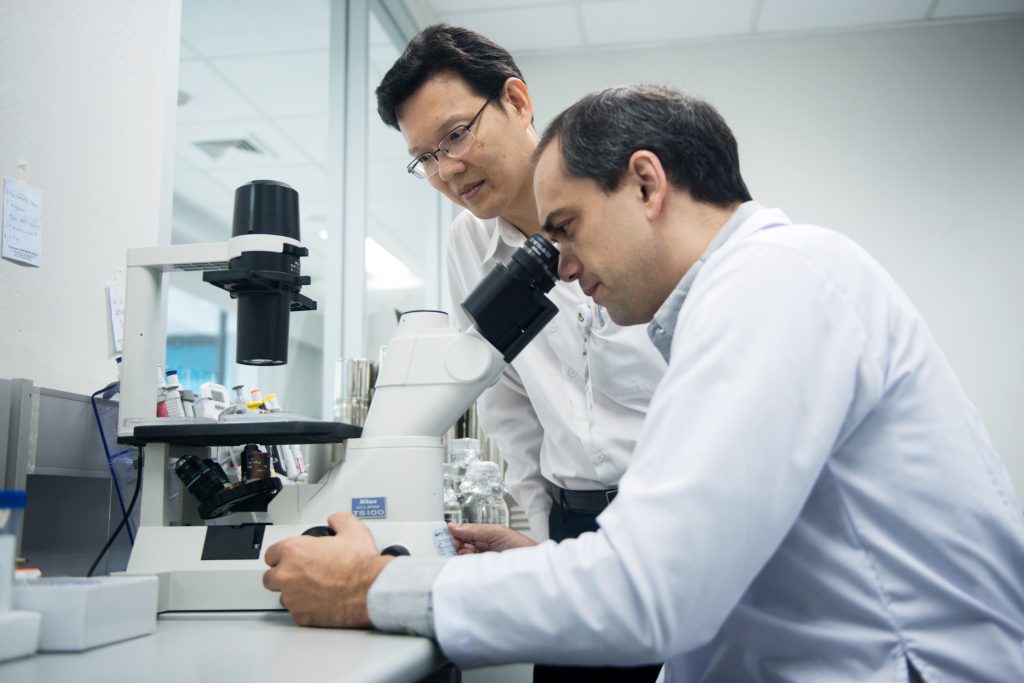 Bangkok, November 2017 – X-ZELL, a global biotechnology firm specialising in rare cell detection technology, has partnered with Professor Dr Pornchai O-Charoenrat, Chief of the Department of Head, Neck and Breast Surgery at Mahidol University's Siriraj Hospital, to trial the company's new cancer cell detection test on 200 breast cancer patients across Thailand.
The test, aptly named X-ZELL Breast™, makes use of the company's world-first, patented platform technology to isolate and visualise rare, cancer-derived Circulating Endothelial Cells (CEC) in a small, 10ml blood sample.
The resulting high-definition images of atypical cells may aid the diagnostic decision-making process, according to X-ZELL CEO, Dr Sebastian Chakrit Punyaratabandhu Bhakdi – especially if traditional diagnostic instruments such as mammograms and tissue biopsies have proven inconclusive.
"Recent landmark studies from the US and Singapore* have demonstrated that CEC are excellent diagnostic markers in a variety of carcinomas," he explained. "By isolating and interpreting these cells from the patient's blood sample, X-ZELL Breast™ will give physicians new insights into the patient's status and help them choose the best course of action for the individual."
According to Dr Bhakdi, the landmark study with Siriraj Hospital is the first of its kind in Southeast Asia. "Results of a pilot study have already indicated that our test is able to reliably detect breast-derived cancer cells in a simple blood sample," explained Dr Bhakdi.
"Early results are extremely promising. We are confident that X-ZELL Breast™ will be able to provide physicians with a non-invasive, pain-free and efficient diagnostic tool that will help them avoid exposing healthy individuals to unnecessary pain and health risks."
The new study, he added, will reaffirm X-ZELL Breast™'s utility for clinical use and pave the way for immediate market entry via Professor Dr Pornchai O-Charoenrat. "We feel honoured to be able to work alongside Professor Dr O-Charoenrat and commend him on having the foresight to embrace such a revolutionary technology early on.
"As the leading breast cancer specialist in Thailand, Professor Dr O-Charoenrat is acutely aware of the huge unmet need for more accurate, non-invasive diagnostic tools we are facing globally," Dr Bhakdi commented.
"By partnering with X-ZELL, he is taking on a global leadership role that could help thousands of women lead a better, more secure life, so we are grateful for him to make the all-important first step in the right direction."
Professor Dr O-Charoenrat confirmed that following a successful study, the test will become available through his practice, pointing out that the simplicity of X-ZELL's blood-based approach will make it easy to integrate in existing diagnostic processes.
*References: Cima et al., Science Translational Medicine, 8(345):345ra89. (2016); Lin et al., Scientific Reports; 7(1):9789. (2017); Bhakdi et al., manuscript submitted (2017).
Media Contact:
Sebastian Grote
Head of Marketing & Communications
+61 425 699 879 (AUS & Global)
+66 6 2197 8788 (THA)
media@x-zell.com
www.x-zell.com
X-ZELL Platform Technology
Developed by medical professionals for medical professionals, X-ZELL's world-first platform technology is capable of isolating and visualizing rare and abnormal cells – including extremely rare Circulating Endothelial Cells (CEC), the ideal biomarker
X-ZELL's platform technology is based on four core modules covering the entire spectrum from blood processing through to cell analysis and reporting – with every step performed in-house using patented and proprietary technology:
Proprietary Cell Lysis for removal of red blood cells,
Patented hMX™ Magnetic Cell Separation for removal of white blood cells,
Patented Cryoimmunostaining™ for highly multiplexed staining of cancer cells, and
Semi-automated Microscopic Analysis.
By combining the wisdom of 4,000 years of pathologic research with X-ZELL™'s own, cutting-edge technology, X-ZELL ensures robust results and maximum clinical utility across a broad range of medical applications – from research through to medication management, companions diagnostics, relapse control and diagnostic decision-making.
About X-ZELL
X-ZELL is a fully integrated biotechnology company specialising in rare cell detection technology.
Established in 2009 with investment from Vichit Suraphongchai – one of the leading figures in Southeast Asian banking – and support from Thailand's premier science university, Mahidol University, X-ZELL first made headlines when it was accepted into Y Combinator's 'W15 Winter Batch'.
X-ZELL used the opportunity to demonstrate the utility of its platform technology to reliably detect prostate cancer at an early stage, before it spreads, securing a rare Honourable Mention and funding by US start-up guru, Paul Buchheit – the creator and lead developer of Gmail – as well as six other Silicon Valley-based angel investors.
Following a successful seed round, X-ZELL opened a Silicon Valley Office in Sunnyvale, CA, to support the company's Global R&D Hub in Bangkok, Thailand and the soon-to-be-opened Head Office in Singapore.
X-ZELL's platform technology is already available to a limited number of universities and research institutions. In addition to prostate cancer, it is currently being applied to CTC and CEC detection in breast cancer, ovarian cancer, endometrial cancer and liver cancer.
More information on www.x-zell.com