Episode 4
A new way to avoid painful prostate biopsies
Friday, 24 August 2018, will go down as a decisive milestone in the history of X-ZELL Inc. – not just because we had the privilege of sharing our latest research with the global scientific community, but also because we had a chance to showcase just how perfectly our work will fit into the big picture.
On Day Two of the 19th Asia-Pacific Prostate Cancer Conference (APCC) in Brisbane, Australia, X-ZELL CEO Dr Sebastian Bhakdi stepped on stage to announce that X-ZELL's unique rare cell detection technology could have avoided 7 in 10 unnecessary prostate biopsies during a pilot study carried out in Thailand.
All biopsies were triggered by Prostate-Specific Antigen (PSA) readings in the 4-10ng/mL grey zone, which is responsible for the majority of over-diagnoses – and with it a vast amount of avoidable interventions.
According to Dr Bhakdi, X-ZELL's intervention would have meant 70 per cent less invasive procedures, 70 per cent less risk of complications, and a giant leap for men's mental and physical wellbeing – all without increasing the likelihood of missing any clinically significant disease.
Remarkably, the risk of over-diagnosing prostate cancer had been one of the most passionately debated subjects of the conference leading up to Dr Bhakdi's Friday morning presentation – making it a highly topical response to an increasingly pressing industry issue.
Flashback: On Day One of the Conference, Prof Per-Anders Abrahamsson – Chairman of Skåne University Hospital's Department of Urology in Malmö, Sweden and Secretary General of the European Association of Urology (EAU) – had outlined the five golden rules for transforming PSA screening, urging urologists to not go to biopsy without compelling reason and to not treat low-risk disease.
In line with that, Dr Stacy Loeb – Assistant Professor of Urology and Population Health at NYU Langone Health – had remarked that managing low risk patients during active surveillance was quickly becoming a key challenge amongst urologists, with existing tools such as the much talked-about PSA Test not always capable of providing the necessary certainty.
Magnetic resonance imaging (MRI) also got into the crossfire, with some physicians – including Dr Phil Dundee, Director of Ambulatory Care at the Prostate Cancer Centre in North Melbourne – arguing a positive MRI should automatically lead to a tissue biopsy, and others, such as Samir Taneja MD, Professor of Urologic Oncology at NYU Langone Health, proposing a much more differentiated approach.
Fast-forward 24 hours, and Dr Bhakdi provided a compelling response to the event's hottest topic: By scanning the blood of patients with ambiguous PSA levels for traces of tumour-associated Circulating Endothelial Cells (tCEC), he said doctors may be able to determine whether or not a biopsy would find evidence of clinically significant prostate cancer.
The result: A new level of peace of mind for patient and urologist alike, and a new tool to actively survey the progression of the disease.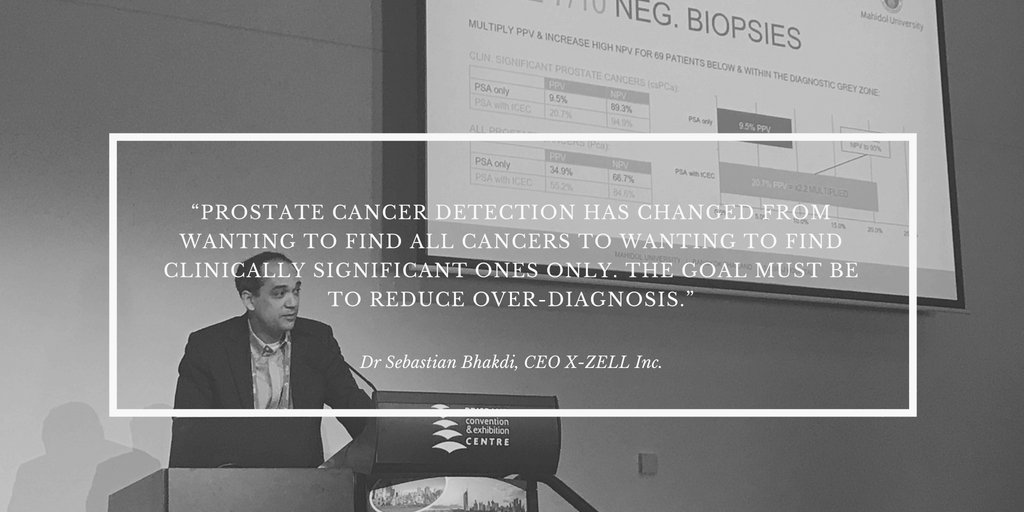 Dr Bhakdi's research – undertaken in collaboration with Mahidol University and Siriraj Hospital in Bangkok – is based on a new type of rare cell detection technology dubbed Cryoimmunostaining™– allowing him and his Bangkok-based team to develop a simple blood test capable of detecting tCEC in a small 8-10mL blood sample.
As opposed to existing technologies, it is based on a negative selection approach that will deplete the blood sample of any healthy material and leave behind 8 out 10 tCEC – all without affecting cell morphology or RNA content.
The cells are then stained using a world-unique 7-colour multiplexing approach, and analysed using an automated microscope – giving doctors a distinct visual of the disease and clear indication of how to proceed.
Dr Bhakdi's research has shown that combining PSA testing with X-ZELL's liquid biopsy will grow the test's Positive Predictive Value (PPV) more than two-fold while also boosting its already quite significant Negative Predictive Value (NPV) – meaning increased accuracy in conforming the presence of prostate cancer, but even more so in confirming the absenceof it (thus avoiding over-diagnosis).
According to Dr Bhakdi, X-ZELL's technology has the potential to fundamentally change the way we think about early prostate cancer detection: "Reducing the risk of over-diagnoses triggered by ambiguous PSA readings has been a pressing issue for decades," he said in Brisbane.
"That's because the PSA Test was never intended to serve as a screening tool – on a scale from 0 to 100ng/mL, only readings close to the bottom or top value really help doctors make an informed decision.
"Most readings, however, come out in what we call the diagnostic grey zone between 4 and 10ng/mL, which is where many over-diagnoses happen. Being able to put them into perspective is an immense breakthrough, especially when it comes to active surveillance. If you look at the big picture, we may have found the missing link."
What's more, Dr Bhakdi pointed out that previous research had already indicated a connection between tCEC and aggressive prostate cancer – a crucial advantage in managing the disease that is not shared by any existing approach1.
"The special significance of tCEC in early cancer detection stems from research into the content of Vascular Endothelial Growth Factor (VEGF) – a signal protein produced by cells that stimulates the formation of blood vessels –in cancers of various stages," he said.
"It demonstrated that without vascular growth, as indicated by the presence of tCEC, cancer is highly unlikely to cause any harm. At X-ZELL, we therefore hypothesize that the detection of CEC could not only help us detect cancer early, but also to distinguish between dormant and aggressive disease."
X-ZELL is proud to announce that a second, 1,000-patient validation study is already underway in Thailand to confirm the pilot study's remarkable results. A second, international validation study is slated to kick off soon, too.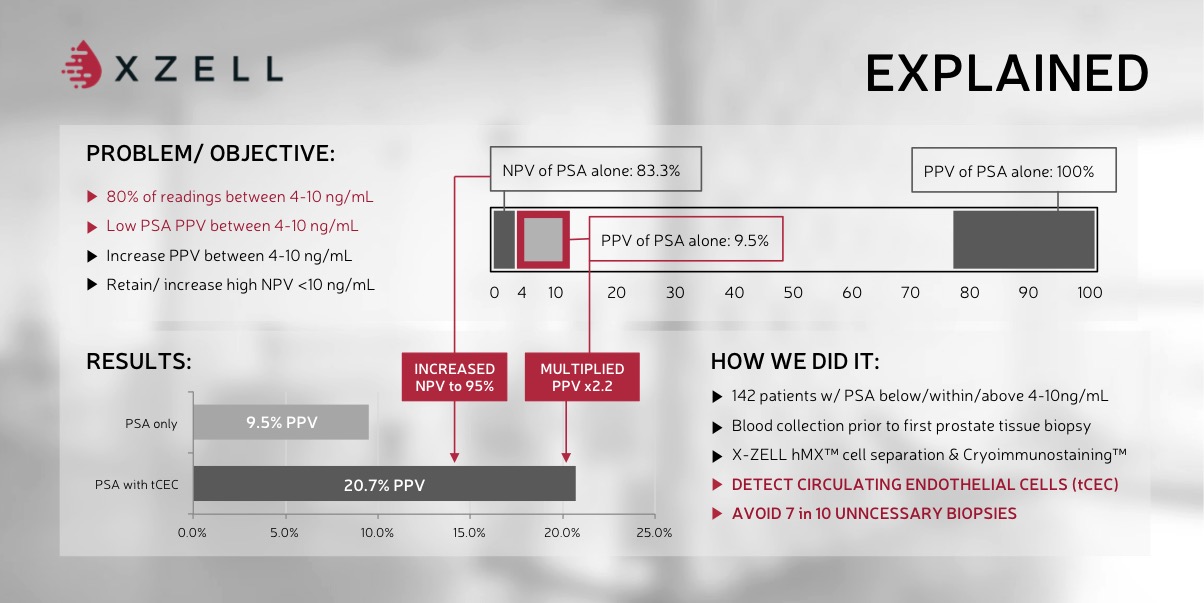 Dr Sebastian Bhakdi's breakthrough research is based on a suite of new rare cell isolation and visualisation technologies that have been developed by Mahidol University spin-off, X-ZELL.
Dubbed hMX™ Cell Separation and Cryoimmunostaining™, the two technologies are able to locate tumor-associated Circulating Endothelial Cells (tCEC, or short CEC) in a small blood sample – a highly promising biomarker for early cancer detection that has been considered undetectable in routine settings until now.
CEC derive directly from a tumour's own, chaotically growing blood vessels and are therefore one of the first types of tumor-derived cells to be shed into the host circulation. Scientists have struggled with detecting them in the past, but eventually managed to conclusively demonstrate their presence in the blood of colorectal as well as prostate cancer patients in 2016 and 20172,3.
A biopsy of the prostate gland is usually required when there is a suspicion of prostate cancer, often following a PSA test or a digital rectal examination (DRE). It involves taking multiple small samples of prostate tissue using a biopsy needle, which are then assessed microscopically by a pathologist.
The prostate biopsy has traditionally been performed via the rectum (transrectal ultrasound-guided – TRUS – biopsy), because the prostate sits directly in front of the rectal wall and is therefore easily accessible via this route. Whilst TRUS biopsy remains one of the standard approaches for an initial prostate biopsy, it has potential drawbacks – not least the fact that 75 per cent of all procedures are negative, meaning they could have been avoided with more accurate screening. The traditional biopsy also has a small but significant risk of serious infection, as well as incontinence and impotence.
1Almog, N. et al., Platelet Proteome and Tumor Dormancy: Can Platelets Content Serve as Predictive Biomarkers for Exit of Tumors from Dormancy?, Cancers, 2010, 2:842-858
2Cima, I. et al. Tumor-derived circulating endothelial cell clusters in colorectal cancer, Science Translational Medicine, 2016, 8(345)
3Lin, P.P. et al. Comprehensive in situ co-detection of aneuploid circulating endothelial and tumor cells, Scientific Reports, 2017, 7(1):9789