OUR STORY
FIGHTING CANCER, one cell at a time
VISION ZERO
ZERO DEATHS DUE TO UNDETECTED CANCER
Good health is the foundation of human achievement. To make it accessible at scale, we are taking on one of the most pressing health issues of our time – cancer. By identifying clinically significant cancers early, when there is still time to intervene, we will reduce the number of deaths caused by undetected tumours to zero.
MISSION
Mastering cancer is one of the final frontiers of modern medicine. With global health systems at breaking point and new cases expected to rise more than 60 per cent by 2040, early detection has never been more important than today.
Yet the shift from reactive to preventive healthcare is not coming fast enough. For the more than 200 types of cancer in the world, only one screening method, covering some three per cent of all patients, has a proven effect on longevity – the Papanicolaou (Pap) test.
X-ZELL is here to change that. By isolating tumour-associated atypical cells from blood and analysing them using artificial intelligence, we build on Papanicolaou's legacy and make affordable cancer screening accessible to everyone.
ABOUT
Founded in 2010 by Dr Sebastian C. P. Bhakdi, X-ZELL is the first-ever start-up spun off Bangkok's prestigious Mahidol University. Supported by angel investors, Dr Bhakdi and his team initially focused on high-flow magnetic cell separation technology for use in tropical disease diagnostics.
In 2014, X-ZELL started exploring more complex rare-cell detection processes – focusing specifically on atypical cells circulating in whole blood – and qualified for one of the most prestigious accelerator programmes in the world, Silicon Valley-based Y Combinator. Spurred by a top-ten finish, X-ZELL incorporated in the United States and accepted international seed funding.
In 2017, Dr Bhakdi presented the first image of a tCEC that X-ZELL had isolated and visualised – a breakthrough moment that marked the company's official transition from research organisation to commercial entity.
In 2018, X-ZELL signed a collaboration agreement with the Diagnostics Development (DxD) Hub – a national research and development initiative led by Singapore's Agency for Science, Technology and Research (A*STAR) – to fast-track the commercialisation of Dr Bhakdi's single-cell diagnostics method.
In 2019, X-ZELL officially incorporated in Singapore and opened a new global head office in the Lion City. In January 2021, X-ZELL opened its first European office in Germany.
X-ZELL is backed by angel investors from Asia, Europe and the US, including X-ZELL Chief Operating Officer Johannes Hille and Paul Buchheit, the architect of Google's Gmail service. Institutional investors include Germany's Deutsche Industrieanlagen GmbH (DIAG) and Hong Kong-based Essex Biotechnology.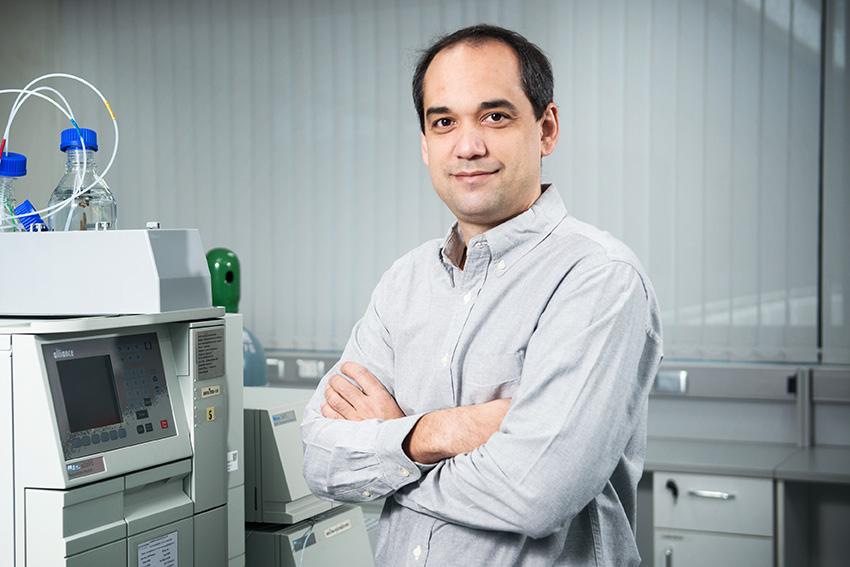 SEBASTIAN CHAKRIT PUNYARATABANDHU BHAKDI
MD, MScIHTM
FOUNDING CEO
The mastermind behind single-cell diagnostics and a firm advocate of health equity, Dr Sebastian Chakrit Punyaratabandhu Bhakdi studied at one of the world's oldest and most renowned medical schools, the University of Freiburg (Germany). As a medical student, he took internships in Bangkok (Thailand), Lahti (Finland), Skopje (Macedonia), Nairobi (Kenya) and New York (USA), which drew his attention to health service accessibility and inequality early on.
After graduating with dissertation magna cum laude, the classically trained musician went on to work in paediatrics and emergency medicine before earning a postgraduate master's degree in international health and tropical medicine at the Autonomous University of Barcelona. While still in Barcelona, he won a malaria research fellowship from the German Research Foundation and was subsequently invited to join the Department of Pathobiology at Mahidol University in Bangkok, Thailand.
Soon after, Dr Bhakdi set up X-ZELL, which has allowed the father of three to follow his entrepreneurial aspirations while pursuing his passion for improving access to quality health care worldwide.