RETHINKING CYTOLOGY
Cytology – or cytopathology – is the science of diagnosing diseases by examining single atypical cells or cell clusters, as often found in fluid specimens.
Cytological testing is integral to modern cancer diagnostics due to its less invasive nature compared with biopsy, high reliability and low cost. [1]
Despite significant advances in medical technology, however, cytological samples still require extensive manual preparation and analysis – slowing down diagnoses and therapeutic decision-making.
At X-ZELL, our mission is to cut out time-consuming preparatory work and digitise sample analytics to take the art of cytology to the next level.
The result? Accurate early cancer detection that is accessible to everyone, anywhere.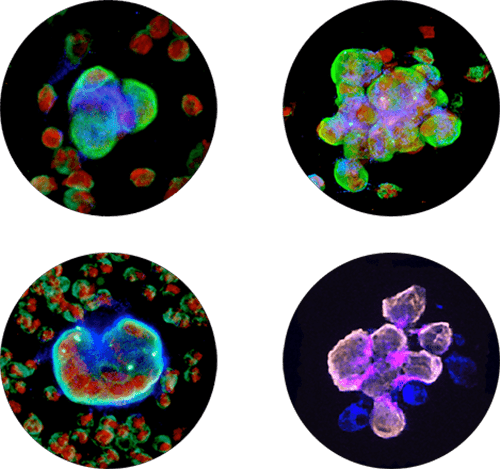 OUTLOOK
Cancer is known for causing distinctive morphological changes to cell shape and nucleus. These abnormal – or atypical – cells start shedding into the host blood when the tumour is just 1-2mm in size. [2]
Cytological staining may expose these altered circulating cells to aid diagnostic and therapeutic decision-making, as well as early cancer detection in asymptomatic individuals. The most prominent example of a cytological screening test is the Papanicolaou (Pap) test, which examines smears from the cervix to identify abnormalities that may expedite cancer diagnoses. [3]
Broad-based introduction of the Pap smear as a frontline screening tool has reduced cervical cancer mortality by up to 92 per cent since the 1960s – but the test's population impact is still limited. That's because most tumour-associated atypical cells are still found in tissue samples obtained via biopsy – an invasive process that is not suitable for asymptomatic testing.
In a move to take the Pap principle to the next level, X-ZELL is now proposing an upgrade from smears and other forms of tissue extraction to non-invasive blood testing: X-ZELL's single-cell diagnostics platform can isolate individual atypical cells from 10mL blood and digitise them for cytopathological evaluation.
To date, X-ZELL has analysed more than 2,000 samples and published 11 scientific papers and conference posters showing that single-cell diagnostics from blood has the potential to significantly improve diagnostic decision-making.
STAY UP-TO-DATE
Subscribe to the free X-ZELL eUpdate to stay up-to-date on future product launches and X-ZELL research. For up-to-the minute news, make sure to follow us on LinkedIn and Twitter.
¹
Yadav et al. 2022
² Infections, allergic reactions and autoimmune diseases also cause morphologies changes in cells. These changes are unique to the disease.
³ Abnormal findings are typically followed up by more sensitive diagnostic procedures and, if warranted, interventions to prevent progression to cervical cancer.
Note: Cytopathology is only one of several tools to confirm the presence of cancer and should be supported by physical examination and medical imaging, such as ultrasound, CT scan or MRI scan. Unless specifically indicated, all X-ZELL products are designated as general laboratory equipment.
X-ZELL Publications
Bhakdi et al. Immunocytomorphological landscape of tCAC in the blood of lung cancer patients (abstract, ECC 2021) Advances in Clinical and Experimental Medicine 2021
Narula et al. Slide-based immunocytometry for diagnostics of acute leukemia (abstract, Blood 2021) Blood 2021 Abstract Book 2021
Bhakdi et al. Improved analysis of tumour-associated circulating rare cells (abstract, ECP 2021) Virchows Archiv 2021
Chiangjong et. al. Cell-main spectra profile screening technique in simulation of CTC using MALDI-TOF Cancers 2021
Bhakdi et al. Cytomorphologic and immunophenotypic characterization of tCAC in prostate adenocarcinoma (abstract, ECP 2020) Virchows Archiv 2020
Bhakdi et al. Accuracy of tCEC as a screening biomarker for clinically significant prostate cancer Cancers 2019
Bhakdi & Thaicharoen Easy employment and crosstalk-free detection of seven fluorophores in a widefield fluorescence microscope Methods & Protocols 2018
Bhakdi Tumour-derived circulating endothelial cells predict clinically significant prostate carcinoma (abstract, APCC 2018) BJU International 2018
Waseem et al. Buffer-optimized high-gradient magnetic separation for isolation of plasmodium-infected RBC Journal of Magnetics 2016
Waseem et al. Antibody-conjugated paramagnetic nanobeads: Kinetics of bead-cell binding International Journal of Molecular Sciences 2014
Bhakdi et al. Optimized high-gradient magnetic separation for isolation of plasmodium-infected RBC Malaria Journal 2010