CRYOIMMUNOSTAINING™
The patented X-ZELL Cryoimmunostaining™ Suite is a two-instrument slide staining system optimised for liquid samples such as bronchoalveolar lavage (BAL), pleural effusion (PE), pre-treated whole blood samples and ascites, as well as fine-needle aspirates (FNA).
Designed to slot seamlessly into routine cytology, both instruments operate at sub-zero temperatures to protect sample integrity and use patented buffers and reagents developed by X-ZELL.
\

No complex sample preparation processes such as cytoblocking

\

Reducing avg. number of slides required per sample from 4 to 1

\

Reducing avg. time from sample to diagnosis from 48h to 4h¹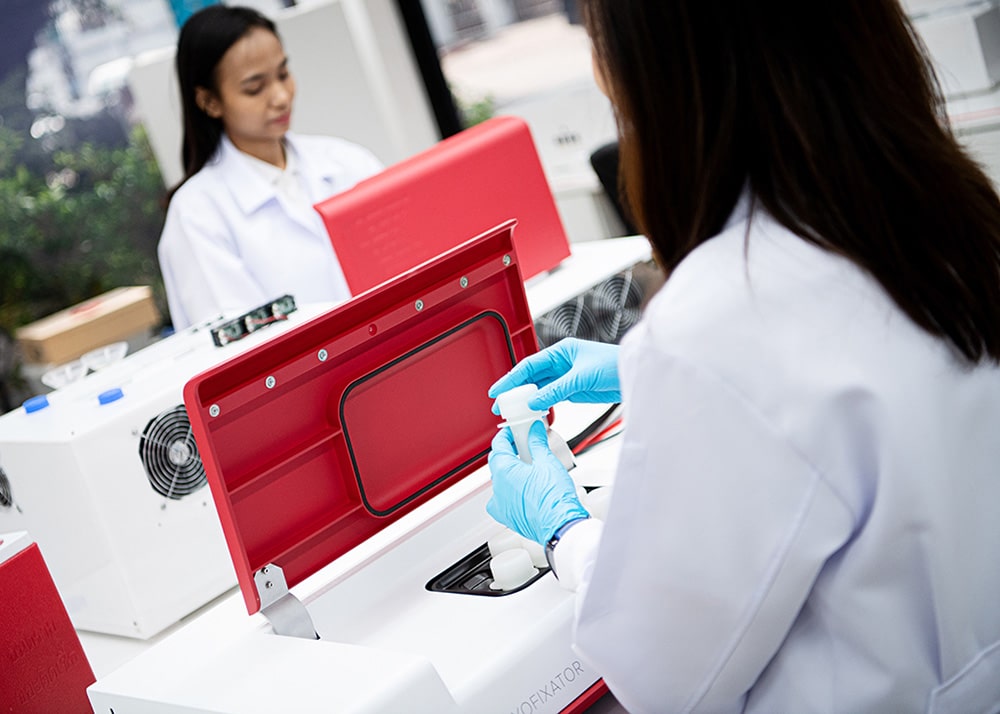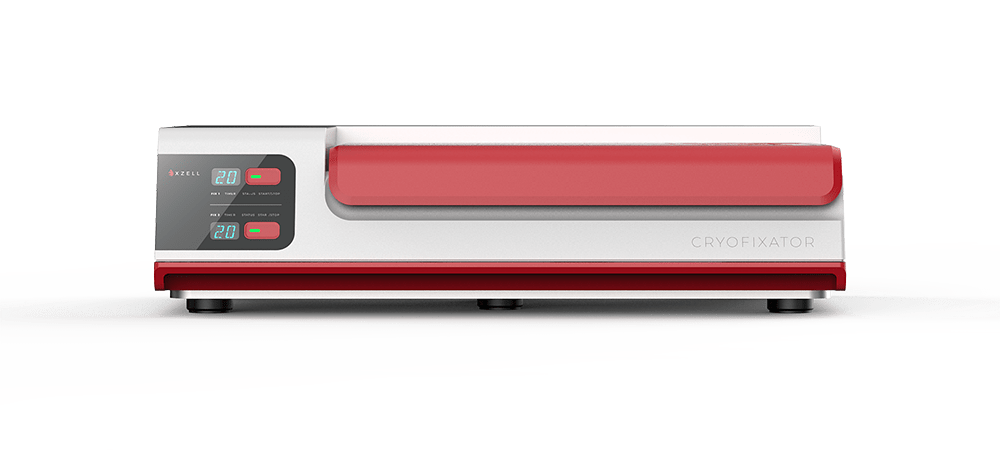 CRYOFIXATOR™
The X-ZELL Cryofixator™ is replacing conventional cell block preparation with non-toxic direct-to-slide fixation – saving more than 90 per cent of preparation time and conserving important secondary data such as cell morphology, DNA and RNA content.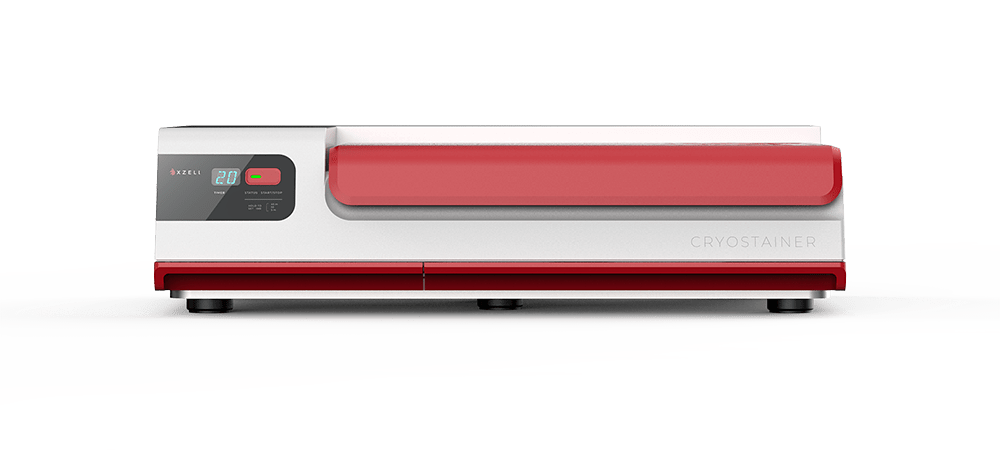 CRYOSTAINER™
The X-ZELL Cryostainer™ is a slide-based immunofluorescence staining system accommodating up to eight off-the-shelf flow cytometry antibodies on a single microscope slide – enabling custom panels that maximise data output while reducing antibody usage by more than 80 per cent.¹
HYBRID MICROSCOPY
The X-ZELL Hybrid Microscope combines the reliability of brightfield microscopy with the performance of immunofluorescence microscopy and the efficiency of digital imaging. Simply pre-select an area of interest through the ocular lenses or live on screen and digitise the section for a new on-screen viewing experience.
\

See all antibody expressions side-by-side in a split-screen, multichannel format

\

Browse the slide section in real time and compare conspicuous cells live on screen

\

Switch each channel on/off and combine as required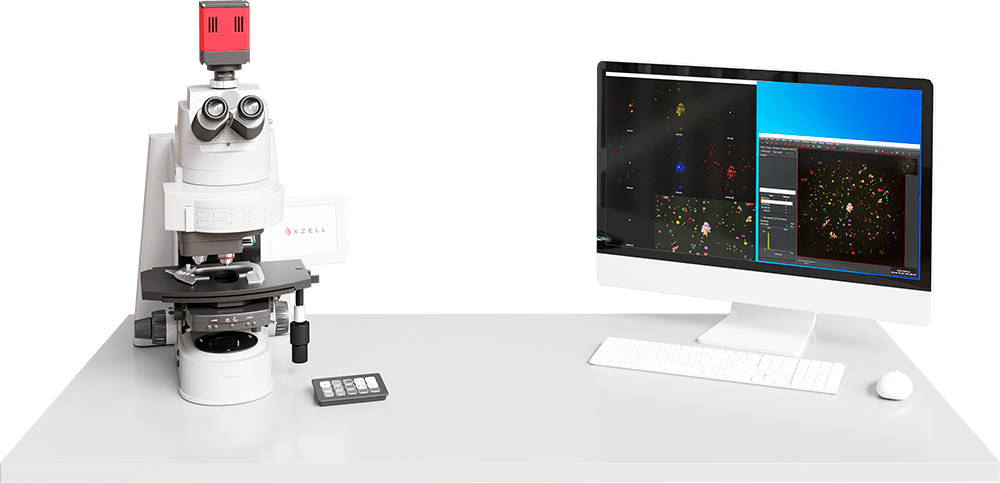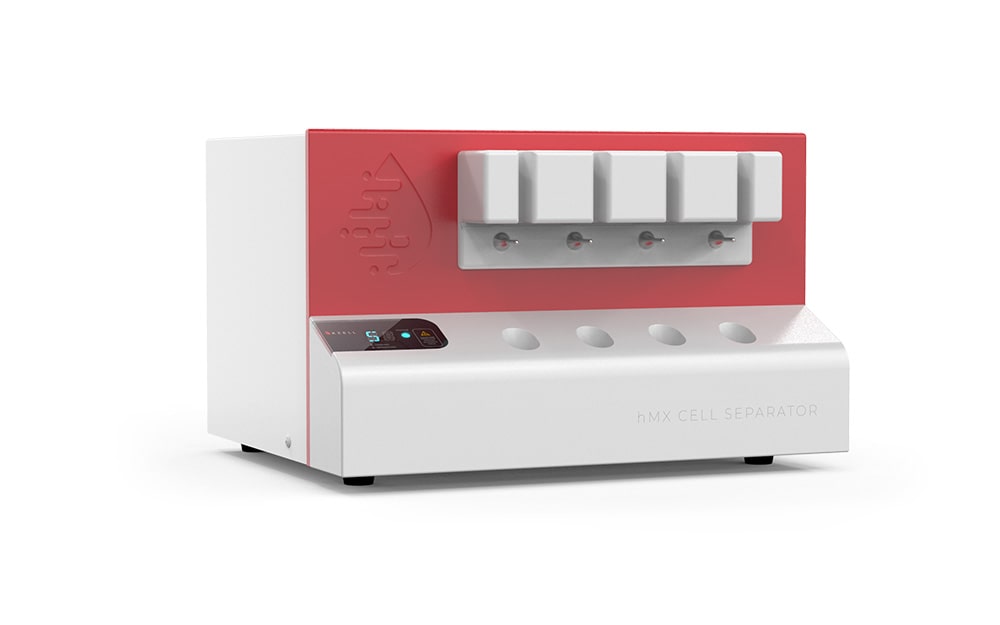 hMX ™ CELL SEPARATION
What if we didn't stop at upgrading cytology as we know it today? How else could we apply our expert knowledge on atypical cells from liquid samples?
To us, the answer is in ourselves – we believe that blood analyses, or liquid biopsies, will unlock a whole new world of diagnostic information.
That's why we developed the patented X-ZELL hMX™ cell separation system. Now available to research users, it gently removes white blood cells from whole blood by labelling them with paramagnetic surface markers and routing them through a temperature-controlled magnetic flow channel.
The result? A highly accurate method of isolating single atypical cells from a small blood sample.
In combination with the Cryoimmunostaining™ Suite, our hMX™ technology is part of a revolutionary dual-centre trial in Singapore, where it will provide whole new insights into our blood and pave the way for a new age of affordable, widely accessible cancer diagnostics.
Note: X-ZELL laboratory instruments have been validated for use in combination with official X-ZELL consumable and reagent kits. Third-party reagents and consumables have not been validated and may affect instrument performance. Unless specifically indicated, all X-ZELL products are designated as general laboratory equipment.
¹ X-ZELL data. More information upon request